eKit customers! Trade in your eKit SIM card for a new OneSimCard for FREE!
Enjoy FREE incoming calls in 160+ countries; low data, voice and SMS rates in 200+ countries, and much more!
Ekit has announced that they will cease operation on June 30th, 2021. Recharges and top ups will not be available after January 31st, 2021. If you are planning to travel soon or in the future, you will need a new international SIM card.
For a limited time you can exchange your eKIT SIM for a brand new OneSimCard for free!
Whether you're a business, leisure or student traveler, OneSimCard is designed to provide you with convenient and affordable mobile roaming around the world.
Get your OneSimCard SIM for FREE today and start enjoying wireless freedom without the high cost!
How to trade in your eKIT SIM:
Register with OneSimCard below
Mail us your old eKIT SIM
Activate the newly received OneSimCard card in the account you had registered
That's it! Enjoy!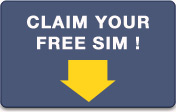 To take advantage of this special offer, first fill out the form below that will register you at OneSimCard.com.