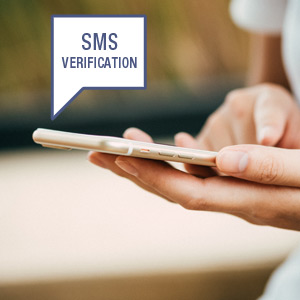 Password security and account protection is an issue of great importance for everyone. As the amount of personal accounts accessed via the internet, mobile devices and phones continues to increase, so will the tools used by banks and many other institutions to authenticate and verify the user attempting to access an account.
The urgency of such verification has also dramatically increased due to the ongoing theft of user identification information by cybercriminals. The recent Equifax data breach effected an estimated 143 million Americans, while about 3 billion Yahoo accounts were previously hacked. For many banks and other institutions "Phone Number Verification" known as "2-Step Verification," has become the preferred solution to verify a user before allowing account access. Typically, the account owner is asked to provide a domestic mobile phone number able to receive a SMS text message. At log in, after the user's password has been entered and accepted, a SMS text message is automatically sent to the user's mobile phone containing a code number. This code number provided by a SMS text message, valid only for a short period of 15 minutes or so, must also be provided correctly in order to access the account.
This "Phone Number Verification" certainly increases account security but at the same creates additional problems for international travelers and foreigners owning US and Canadian bank accounts. There are many telecom companies offering land-line numbers capable of receiving SMS text messages but banks recognize these numbers as being not mobile and will not deliver SMS text messages to such numbers.
Most people residing outside the United States do not have a US mobile phone number, but many do have US and Canada based accounts which need phone number verification. For international travelers, receiving a SMS text messages on a US domestic mobile phone number means that the traveler always needs to roam with the US phone while traveling. In addition, phone number verification is often used to verify business accounts which have more than one account user. Sending a SMS text message to just one of the users is certainly not the best way to manage such an account. Finally, providing your personal mobile phone number increases the likelihood of future spam phone calls, something all of us would very much like to avoid.
Many OneSimCard customers were requesting a solution, so we provided one. The OneSimCard Personal Extra Number (PEN) for SMS Online Phone Number Verification. This OneSimCard PEN was specifically designed for Phone Number Verification and allows the user to BOTH create an email distribution list for the verification message received by SMS text message to the OneSimCard PEN and also to have the received SMS verification text message forwarded to any phone number anywhere in the world. Both of these solutions solve all the major problems associated with Phone Number Verification.
This OneSimCard Bank Verification Number (PEN) offers very flexible features allowing customers the following:
Get an SMS text on the OneSimCard Mobile phone when roaming abroad.
Get an SMS text on a mobile phone number.
Get a copy of such SMS text by email.
Forward all these SMS texts and phone calls to another number of any other carrier including non-US carriers, like China Mobile in China or Telstra in Australia or any other carrier.
Allows this number to receive SMS without even having the OneSimCard SIM installed in the phone, though OneSimCard account is required.
Allows to receive calls and SMS on OneSim VOIP app running on Android or IOS phones.
Allows to reply back to the bank or credit card company with SMS from the SIM VOIP app or from the OneSimCard Mobile phone.
Forward incoming verification SMS messages to an email address.
How To Buy:
With Physical SIM Card (OneSimCard):
You can add a Bank Verification SMS PEN to any OneSimCard at any time. Simply log into your OneSimCard web account, select the SIM card you want to add the PEN to, click on the Order Personal Extra Number link, select SMS for Bank verification and proceed to finalize your order. Easy.
Without Physical SIM Card:
No need for a physical SIM card? No problem. Order just a verification number without a physical SIM card from the USA Phone Number for 2 step SMS verifications and alarms page in our Accessories section.