The OneSimCard eSIM is an electronic, embedded SIM card that offers our super-affordable international data roaming services at 4G/LTE speed without having our physical SIM in the phone. OneSimCard eSIM is delivered instantly online, so there is no need to ship the physical SIM, saving you both time, and the cost of shipping.
The OneSimCard eSIM is fully independent of other OneSimCard global roaming products, because it works only with eSIM-capable mobile devices. However, it offers all of the same blazing fast mobile data, voice and text services and plans with which you are familiar from OneSimCard's physical SIM. The list of supported phones for OneSimCard eSIM will continue to expand as more eSIM-capable mobile devices become commercially available.
eSIM Benefits
eSIM allows a compatible phone to essentially become a dual SIM phone working with two sim cards from different providers simultaneously. Devices supporting eSIM and a physical SIM-card, e.g. iPhone XS/XR/XS Max, allow simultaneous operation of the physical SIM card and the embedded SIM – eSIM. From the settings menu of your eSIM enabled phone, you can easily select which SIM card to use at any time, or use one SIM provider for voice and sms and another for mobile data. You are in complete control.
An active internet connection (e.g. WiFi or Cellular data connection) is required on the phone while you create a new eSIM account on your phone. To install the eSIM, simply scan the QR code from your online account and follow a few simple steps to finalize the installation.
Supported devices
As of June 17 2020, the following Android, iOS and Windows 10 devices are supported:
iOS
Android
Windows 10

iPhone 13
iPhone 12
iPhone SE 2 (2020)
iPhone 11
iPhone 11 Pro
iPhone 11 Pro Max
iPhone XS
iPhone XS Max
iPhone XR
iPad Air/Pro (3rd Gen)
iPad Mini 5

Google Pixel 6
Google Pixel 5
Google Pixel 4, 4XL
Google Pixel 3a*
Samsung Galaxy Fold
Samsung Galaxy S20, S21, S22
Samsung Galaxy Z Flip
Samsung Watch S4
Huawei Watch 2 Pro
Huawei P40, P40 Pro

Acer Swift 7
ASUS NovaGo
HP Envy x2
Lenovo IdeaPad Miix 630
Lenovo Yoga 630
Microsoft Surface Pro X/Go 2/Pro with LTE Advanced
*Pixel 3a can't use eSIM if the phone was purchased in Japan, or if bought with Verizon or Charter service.
Important facts about OneSIMCard travel eSIM
OneSimCard eSIM supports DATA, Voice and SMS.
4G is operational only in supported networks.
eSIM can only be installed on one device and can't be moved to another device. However, eSIM can be removed and then re-installed again on the same device up to 10 times.
Due to security features of the eSIM, it is not refundable. Once the QR code has been displayed in the portal, the eSIM can't be returned or refunded for any reason.
Installing OneSIMCard eSIM
Go to Settings -> Mobile Data -> Add Data Plan. The device camera will switch on, ready to scan your OneSimCard eSIM QR code and to start downloading the eSIM.
Scan the QR-code with your camera. Important: the code

may only be downloaded once, and only onto one device

.
Click on "Add cellular plan".
eSIM will now be downloaded to your device.
A screen will appear asking you to give a name to your eSIM-card. You may keep the default name, i.e. "Secondary," or call it a name of your choosing
Another screen will appear asking you to choose a default SIM-card. Choose eSIM for DATA connection.
Learn more about how eSIM operates at the official Apple site: https://support.apple.com/en-us/HT209044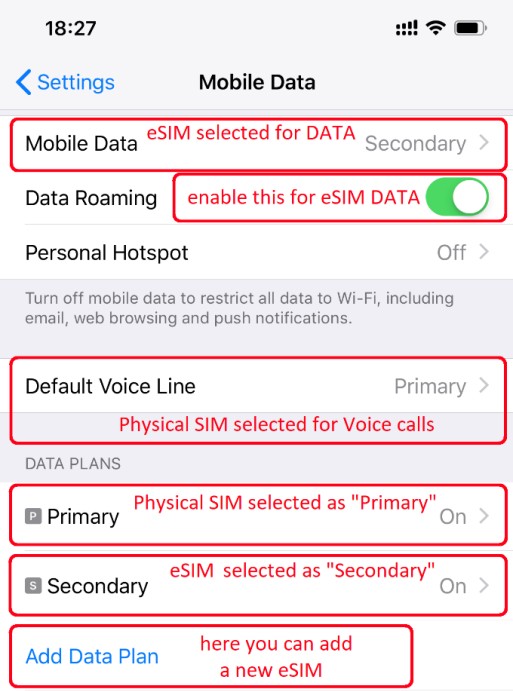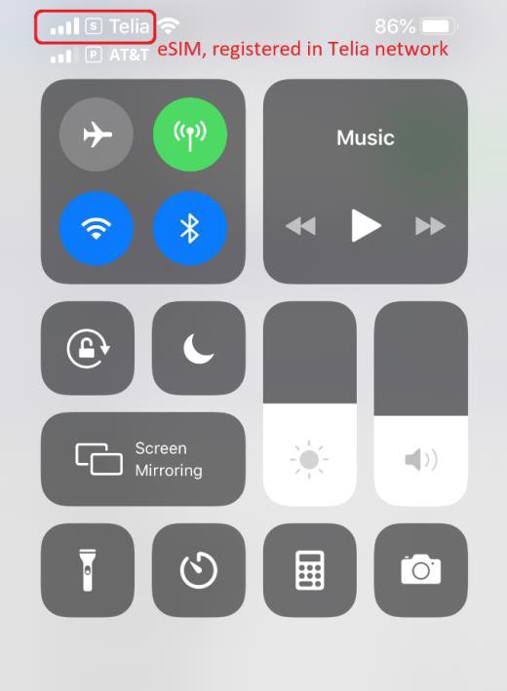 OneSIMCard eSIM downloading and re-use options
One eSIM profile (ICCID) may be downloaded to a single device only (linking to the device IMEI). Should an eSIM profile be removed from one device, it will not be possible to download the same eSIM profile to any other device in the future.
Once downloaded: The eSIM profile can be removed from your device and then re-downloaded to that same device up to 10 times.